What's "Bioelectrics" ?
Bioelectrics refers to the use of pulsed power, powerful pulsed electric or magnetic field for extremely short periods of time, non-thermal plasmas in gases or liquids and shock waves, to give novel physical stresses to biological cells, tissues and/or organisms as well as bacteria. Bioelectrics is an interdisciplinary academic field over physics, chemistry, biology, medical science, agriculture, environmental, mechanical and electrical engineering, and is expected to open up new science and technology. For example, nanosecond pulsed electric fields (nsPEF) give a unique stress based on dielectric and electrostatic effects to sub-cellular bio-molecules and organelles, being expected to lead to new biological reactions. Also intense pulsed electric fields can be used to kill bacterial spores in liquid. Atmospheric pressure, non-thermal plasmas produced by pulsed power can be used not only for bacterial, viral and chemical decontamination but also for medical treatments such as wound healing. Plasmas can be created even in liquid and used for the bacterial and chemical decontamination of water environment.
---

Institute of Pulsed Power Science, the consolidation of the Shock Wave and Condensed Matter Research Center and the Bioelectrics Research Center was established on Apr 1, 2013.
The 2012 International Bioelectrics Symposium was held in Kumamoto, Japan, on Sep 5 - 8, 2012.
The 2011 International Bioelectrics Symposium was held in Toulouse, France, on May 4 - 6, 2011.  
Bioelectrics Symposium 2011 was held in Kumamoto University on Mar 10, 2011.
The 2010 International Bioelectrics Symposium was held in Norfolk, Virginia, USA, on June 24 - 26, 2010.
The Bioelectrics Symposium was held in Kumamoto University on March 4, 2010.
The 2009 International Bioelectrics Symposium: Biological Effects of Electromagnetics on Humans, Animals & Plants (BEEHAP), was held in Columbia, Missouri, USA, on June 25 and 26, 2009.
The 17th IEEE International Pulsed Power Conference (PPC2009) was held June 28 – July 2, 2009 in Washington DC.
Bioelectrics Research Center Kick-off Symposium was held in Kumamoto University on May 12, 2009.
---
Message from the Director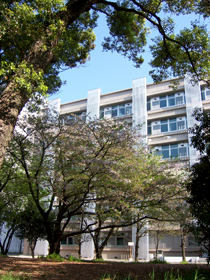 Bioelectrics Research Center (BERC) was officially established in October, 2007, in Kumamoto University with a strong support of the 21 Century Center of Excellence (COE) program on Pulsed Power Science, to carry out a wide range of studies on bioelectrics from the basics to industrial applications and to deepen academics on bioelectrics.
The BERC consists of five divisions, fundamental bioelectrics, extreme state bioelectrics, environmental bioelectrics, medical bioelectrics and international cooperation bioelectrics, and 16 professors have joined us from various academic fields stated above.
The bioelectrics research has been being promoted in the international framework. In advance of the foundation of the BERC, the joint research agreement on bioelectrics was made between Old Dominion University, U.S.A., Karlsruhe Research Institute, Germany and Kumamoto University in October, 2005. Since then the bioelectrics consortium has been being expanded worldwide, and involves 8 organizations at this moment. We are regularly holding the international workshop and the WWW based internet meeting to discuss and to share the cutting edge research results on bioelectrics. Also the researcher exchange and the joint education are performed between the consortium members.
In April, 2009, a new laboratory was opened in the Kurokami Campus. The BERC is equipped with high quality equipment such as a laser confocal microscope, a flow cytometer with a cell sorter, a laser micro injector and various kinds of pulsed power generators besides general bio-related equipment. It enables us to promote collaboration between the researchers and to deepen the bioelectrics studies.
Sunao Katsuki
Director of the Bioelectrics Research Center, Kumamoto University